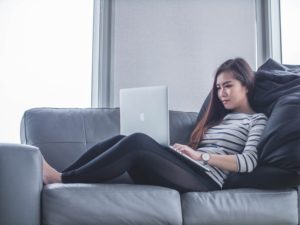 Let me spill the beans and tell you about a secret that 90% of business owners don't know about their website.
Your website is a vital part of your business. Contrary to a lot of opinion the website is not dead. In fact it is needed more now than ever as long as it is used intelligently.
Yes, social media sites are strong and growing, but they serve a different purpose than the website does.
Imagine a wheel with spokes and a hub. Think wagon train wheels or bicycle wheels. Your website is the hub and center point of the wheel. From the hub (website) are direct links (spokes) to social media and other sites which makes up the pieces of the outer wheel.
All social media and peripheral sites should be sending visitors to your website. Why? Because social media is meant to create a relationship and not necessarily do the selling directly. Once visitors know, like and trust you they should be directed to your website where the selling is of primary importance. Websites should give a clear and focused call to action pointing out the business' branding, image and products and/or services.
Here's the dirty secret no one is talking about. 96% of your website visitors never contact you! That means that even with all the effort you may spend on social media (which is important in its own respect) approximately only 4% of those visiting your website will take any action. It doesn't matter the source of your website traffic. It could also be from organic searches, display ads, PPC advertising, even direct linking or others.
Not discounting factors such as poor website design, no clear call to action or no video (over 80% of buyers state that video is a major factor in their buying decision), there are a multitude of reasons why visitors leave without contacting you or purchasing. The phone may ring just as they arrive at your site. The baby may start crying. The dog starts barking. They receive an urgent text or email. Who knows? Anything can happen that diverts their attention.
All that hard work on your part just went down the drain. BUT, there is a solution!
Why wouldn't marketers want to tell you about this secret? If they are doing advertising for you it would be logical to think that up to 96% of your money is going to waste! Until relatively recently this has been a major problem to correct and nobody wants to talk about that fact. It should make you think twice before spending money on some forms of advertising.
After all, we are talking about consumer behavior here. It is very difficult if not impossible to change that. Obviously all businesses need to advertise in some manner if they want to grow. Display ads, PPC ads, and information articles are some of the best ways to advertise on the Internet. We just need to get them to produce at a higher degree of efficiency.
A large percentage of website visitors who leave are still interested in your product or service, but life gets in the way and they forget about your site or the address or your business altogether. If they could be gently reminded about you over the course of the next few days or weeks there is a good chance they will revisit and make that contact or whatever your call to action may be.
We at New Action Marketing now have the technology and resources needed to capture 100% of your website visitors and follow them around the Internet quietly reminding them about your business. There is no need to throw more money at trying to get more unique traffic to visit your site just to make up for the 96% that leave. There is a greater chance that those who have already visited and shown some interest will buy or take action at some point in the near future once they return. Warm visitors (those who already know something about you) are more likely to take action so it only makes sense to increase the chances of them becoming buyers, clients or customers.
Lots of advertising dollars are spent trying to get new and more traffic. It is always important to get new visitors, but once they get to your website don't let them slip through your fingers!
Contact us today to find out more about a cost effective way to regain all of that lost potential revenue!
Put us to the test. Click this link to get your free professionally produced display ad that you can use on your website, social media sites or anywhere you want.  It only takes a few minutes to get the ball rolling and we are covering all the costs! Don't miss this opportunity.
We look forward to working with you.
John Heiermann
New Action Marketing LLC
john@NewActionMarketing.com
888-563-5343